NOTICE: We are not currently accepting dealer applications, as our product is undergoing some continued development.
Become an exclusive Truck Lidz™ dealer in your area!
Unique one of kind system - the only tonneau cover with tool box access (patent pending)
Custom fit, clean aero design
Top quality product, makes great impression
Made in the U.S.A.
Dealer application form coming soon. In the meantime, please use the short form on our Contact Us page.
The best system for your customer's truck
Unlike many other truck lids or tonneau covers, Truck Lidz™ is very versatile; you can remove your tonneau while leaving the tool box still in place, the toolbox storage compartment may be removed to allow full bed access, while having the advantages of a full functioning cover with easy front and rear access.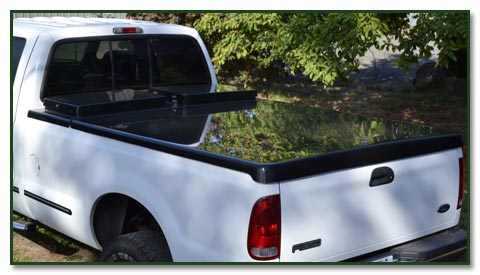 Our equipment is not detrimental to your truck. Everything can be removed, no bolts or screws left in your truck.

The tonneau and the two tool box openings all have a locking system, with push to open latches.

Tool boxes are spacious, but still allow you to use the full length of your truck bed, setting approx. 10 inches above the truck bed.

Our sleek design amplifies the look of your truck. We can color match to most factory colors. Customizable patterns, such as camouflage, are also available.
CONTACT US to learn more and apply